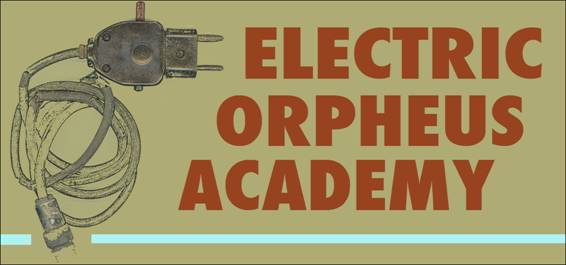 ELECTRIC ORPHEUS ACADEMY
Program 2018
Alte Sägewerkshalle, Heumühle, Neustift 16, 3911 Rappottenstein, Austria
Symposium
July 2–4, 2018
Artistic Direction: Günther Rabl
Technical Direction: Wolfgang Musil
This symposium is dedicated to the French mathematician Jean-Baptiste Joseph Fourier (1768–1830), who would have had his 250th birthday this year.
Although we are hardly confronted with it as users and consumers, much of today's technology would not exist without the FFT ("Fast Fourier Transformation," named after the mathematician): No modern telecommunications, no broadband internet, no YouTube, no mobile phone, no tablet; also no medical procedures such as magnetic resonance or X-ray analyses, not to mention the many applications in science and research.
The FFT has been an insider tip in experimental computer music since the 1980s. Nevertheless, the composers who deal with it in detail are rare. Many interesting phenomena opened up by the transformation are no longer compatible with a traditionalistic musical world view and require different perspectives.
This time, however, the focus is not on producing pieces that will be performed at the end of the week (as in recent years), but on exploring new methods and insights concerning the FFT. Works that result from this should be given time to develop. Their performance is reserved for later events.
Location
The renovated former sawmill where the courses take place is located in a forest glade. The nearest village (with a grocery, bakery, butcher, tobacconist, post office, bank, doctor, taverns) is 3 km away.
Accommodation
Rooms are available in the surroundings (3-10 km) at local prices; private rooms are also available. In any case, you should arrange accommodation in good time.
Due to the water situation, accommodation on the sawmill premises (guest apartment, tent, caravan) is very limited.
Getting There
The public transport network is no worse than elsewhere in the country. It is easy to get to Zwettl, but getting to Rappottenstein is a bit less easy. Cars or carpools are recommended.
Please arrive on SUNDAY, July 1st! No allowances can be made for participants who come later.
Conditions of Participation
Participants are expected to have computer music education and/or experience. Preferences regarding hardware, operating systems and programs are irrelevant. However, the installation of VASP and AMP is required for active participation (comprehension of examples and experiments).
In particular, some knowledge in the field of complex audio would be beneficial:
http://www.canto-crudo.at/electric-orpheus-academy/stb_tutorial_de.htm
Help with the setup and tutorials for the introduction can be offered in advance – upon individual agreement.
Costs
Participation fee: € 120
Please budget for: travel, accommodation and meals. We can organize catering (breakfast, snack, dinner) if you register in due time.
Course Sequence
In the mornings 10 a.m. to 1 p.m.: Workshop by Günther Rabl on the topic, with many audio samples and comprehensible experiments.
In the afternoons: Open working groups based on interests, supervised by Wolfgang Musil and Günther Rabl
Evenings: Opportunity to use the Loudspeaker Orchestra and listen to new and old pieces from the international electroacoustic repertoire.
Software
All participants will receive current versions of VASP and AMP (two programs developed by Günther Rabl over the course of decades for sound processing and composition, especially in the field of FFT). Wolfgang Musil will provide old and new Max patches.
Registration
Limited number of participants!
Interested parties please contact Günther Rabl or Wolfgang Musil.
SAT July 7, 2018
EOA Concert
Electroacoustic Music from Six Decades
Artistic Director: Günther Rabl
Technical Director: Wolfgang Musil
Presentation: Günther Rabl, Juraj Duriš
Co-production of Electric Orpheus Academy and Experimental Studio Bratislava
The music world can roughly be divided into two big groups: one for whom music cannot be old enough; for the other not new enough. It was that way in the 20th century and it's no different today. That's a pity – especially for a genre whose genesis is not bound to a time flow: fixed media music (or "tape" as we said earlier). From the moment of its realization, it can be reproduced and performed at any time, like a movie, as long as the necessary technology exists.
This program brings together six decades of music creation. The selection results from the collaboration with the Experimental Studio Bratislava, which was created spontaneously last summer.
A loudspeaker orchestra featuring 20 loudspeakers of different characteristics is available for rehearsals for three days, in which a spatial staging of the pieces can be developed.
7 p.m.
From the '60s to the '80s
Works by: Milan Adamciak, Anestis Logothetis, Jozef Malovec, Günther Rabl
Sound Direction: Juraj Duriš, Günther Rabl
8 p.m.
From the 80s to Today
Works by: Miro Bázlik, Juraj Duriš, Daniel Lercher, Caroline Profanter, Vinzenz Schwab, Svetozár Stracina
Sound Direction: Juraj Duriš, Daniel Lercher, Caroline Profanter, Vinzenz Schwab
9:30 p.m.
Electroacoustics Live
Rudolf Pepucha, electronic accordion, Martin Gut, electrically amplified tromba marina
Free admission
FRI July 27, 2018, 8 p.m. Premiere
SAT July 28, 2018, 8 p.m.
DAS WIRTSHAUS ZUR LETZTEN LATERN (LAST LANTERN INN)
Music theater performance in the scope of the Viertelfestival 2018
Moderation, Recitation, Singing: Alexandra Sommerfeld, Gilbert Handler
Music: Gilbert Handler, Günther Rabl, among others
Texts: Anestis Logothetis, Hubert Rabl, Gilbert Handler among others
Stage and Space: Gernot Sommerfeld
Sound Engineering: Wolfgang Musil
Lighting: Martin Schwab
Network Technology and Electronics: Georg Danczul
Acoustic Staging: Günther Rabl
Director: Karin Koller
Artistic Director: Günther Rabl, Gilbert Handler
A production of VON KOPF BIS FUSS, in cooperation with the ELECTRIC ORPHEUS ACADEMY
For one night, the old sawmill hall is transformed into a mysterious inn. When the first guests arrive, it's already busy – at least that's what it sounds like. The shady innkeepers who tell strange stories are expecting you. An abysmal house band gets ready for its performance, while weird occurrences can be heard coming from the cellar. And then the jukebox starts to play a guest's favorite song, which he has never heard before. It spreads out into the hall and suddenly reverberates from the forest. Even the football game on the old TV cannot have taken place in this manner; something is not right here. The state of the nation address, which will be transmitted live at a later hour, is eagerly awaited. The connection is bad and is repeatedly interrupted. The broadcaster desperately tries to save the situation by playing the national anthem. All in all, everything seems to be going down the drain. But lo and behold: the forest is illuminated, the whole clearing makes sounds ...
Do you know now what awaits you at the Last Lantern Inn? Those who were there rave about it. Others deny that it exists at all. It's hard to say. Rumors have it that it will be opened on July 27th and July 28th.
Admission € 16 / € 12
Information and reservations: wirtshaus@zurletztenlatern.at
Info: ++ 43-699-10581009 (Gilbert Handler, Mon-Fri 9 a.m-6 p.m.)
www.viertelfestival-noe.at/das-wirtshaus-zur-letzten-latern

SAT, August 18, 2018 8 p.m.
A COMB A DAY
Exhibition/Concert/Installation
Wooden Objects: Gerhard Maier
Music: Günther Rabl, Dieter Feichtner
Acoustic Staging: Günther Rabl
Exhibition Design: Judith Hasleder, Martina Wagner, Eveline Hasleder
Space and Lighting: Gernot Sommerfeld
A series of pictures: Bettina Kaiserseder
3,000 hand-carved wooden objects, combs, spoons, forks, figurines – the life's work of the exceptional artist/craftsman Gerhard Maier – encounter spatially staged music from many loudspeakers and form a unity for all the senses.
Over the years, the discussion between Gerhard Maier and Günther Rabl concerned how objects and music – beyond a conventional exhibition – can be presented together.
This led to such extraordinary experiments as the two events Fourier auf der Reise nach Prag (Fourier on the Journey to Prague) and Fourier kehrt zurück (Fourier Returns) (1996 and 2008 at the former horse-drawn railway station in Kerschbaum).
A further planned cooperation was hampered by Gerhard Maier's illness and found its tentative end through his passing. These ideas have now been taken up again by artists from Gerhard Maier's circle of friends and combined into a grand, unique installation of exhibits, light and sound.
Free admission
Alte Sägewerkshalle, Heumühle, Neustift 16, 3911 Rappottenstein, Austria
Zufahrt zwischen Grünbach und Neustift, Straßenkilometer 66.6
Download Programm 2018 (PDF) deutsch
Subsidised and supported by: NÖ-Kultur, BKA-Kunst, Gemeinde Rappottenstein, SKE-Fond, Sparkasse Waldviertel, Weingut Schuster