Choreography: Bert Gstettner
Music: Günther Rabl, Bernard Parmegiani
Acoustic Staging: Günther Rabl
Sound Direction: Thomas Gorbach
Dance / Performance: Sharon Booth, Meirav Elchadef, Deborah Hazler, Esther Koller,
Andrea Nagl, Martin Tomann, Michael Turinsky
Costumes: Devi Saha
Lighting: Dulci Jan, Klaus Greif
Production: Tanz*Hotel / Art*Act
February 9 - 14 2010, TU Wien, Kuppelsaal
The Electroacoustic Project
---
Günther Rabl
PASSANTEN (PASSERSBY), 1996, 17min
ROLLER (ROLLER), 1996, 19min
FOURIER AUF DER REISE NACH PRAG (FOURIER ON THE WAY TO PRAGUE), 1996, 8min
pause
Bernard Parmegiani
POUR EN FINIR AVEC LE POUVOIR D'ORPHEE (TO FINISH ONCE AND FOR ALL WITH THE POWER OF ORPHEUS), 1972, 23min
L'OEIL ECOUTE (THE HEARING EYE), 1970, 17min
part 1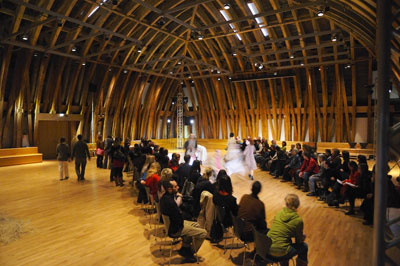 Foto: Michael Zacherl
Foto: Michael Zacherl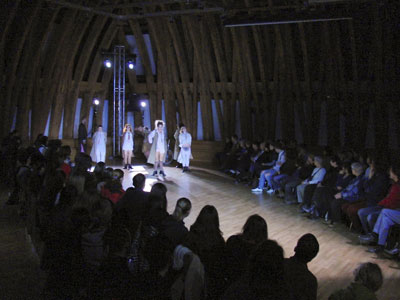 Foto: Michael Zacherl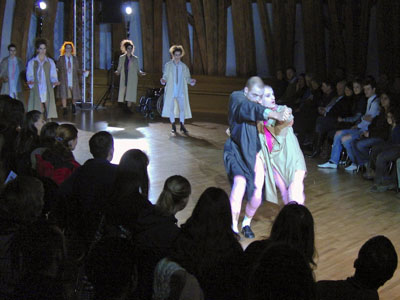 Foto: Michael Zacherl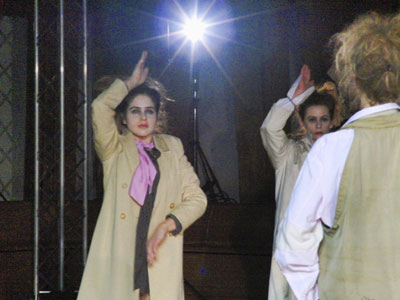 Foto: Michael Zacherl
Foto: Michael Zacherl
Foto: Michael Zacherl
Foto: Michael Zacherl
part 2
Foto: Michael Zacherl
Foto: Michael Zacherl
Foto: Michael Zacherl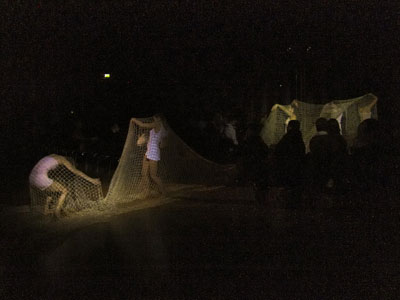 Foto: Michael Zacherl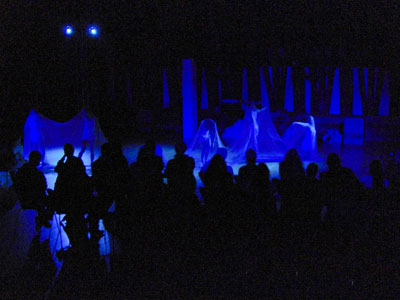 Foto: Michael Zacherl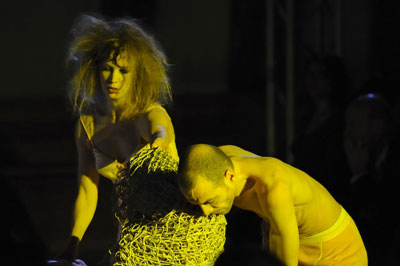 Foto: Michael Zacherl
Foto: Michael Zacherl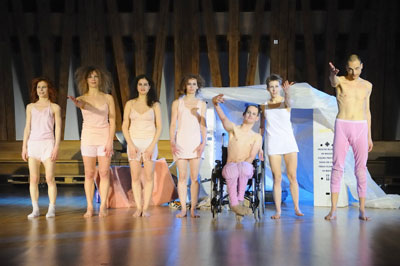 Foto: Michael Zacherl
done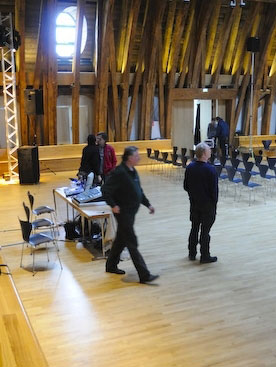 Foto: Michael Zacherl

FOURIER AUF DER REISE NACH PRAG
(FOURIER ON THE WAY TO PRAGUE)
Günther Rabl
Originally the collective title for the three music pieces – was a work commissioned by the woodcarver Gerhard Maier on the occasion of the initial closing of his studio at the old horse-drawn railroad station in Kerschbaum in 1996. For me, it was an opportunity to apply the methods of the Fourier transformation, which I had theoretically dealt with in the years previous, to a whole composition for the first time, and to effectively use the programs resulting from it.
Artificial reverb had existed in studio technology from the beginning. It never interested me; I saw it more as sound-technological cosmetics, as a cheap effect, rather than as a formal method. Completely other perspectives first stood out through the use of the Fourier transformation: What happens when every arbitrary sound can be a reverb? What if the reverb lasts for minutes or never stops? These three pieces provide various extreme answers to such questions.
The trilogy begins with a parody of the morning traffic on a country road and concludes in the jubilance of two million frequencies that are evoked by very few, simple glissandi, until these also sink into the earth with a flourish.
G.R.
POUR ENFINIR AVEC LE POUVOIR D'ORPHEE
(TO FINISH ONCE AND FOR ALL WITH THE POWER OF ORPHEUS)
L'OEIL ECOUTE (THE HEARING EYE)
Bernard Parmegiani
83-year-old Bernard Parmegiani is not only one of the leading consequent representatives of French acousmatic music, but also one of the most distinct. His signature is unmistakable, from the first audio tape pieces at the beginning of the 1960s to the latest works created on the computer.
He does not shy away from repetitive, suggestive effect where it makes sense, and artfully masters it without slipping into New Age kitsch or minimalisms. Despite diametrically opposed methods of operation, he is congenial to Dieter Feichtner, a musical soul mate. (Dieter Feichtner knew Parmegiani's music, and it is very probable that Parmegiani also listened to Feichtner at the Paris Opera during his one-month guest performance with The Trio and Carolyn Carson's ballet).
At first glance, the title is irritating: "Pour enfinir avec le pouvoir d'Orphee" ("To Finish Once and For All with the Power of Orpheus"). Whom or what is it aimed against? One thinks right away of Pierre Henry. The media opera "Orphee" from Henry/Schaeffer (premiered in Dounauschingen in 1952!) led to an unprecedented schism within European music which, in principle, has not been overcome to this day.
Henry's extract from it, "Le Voile d'Orphee", is a milestone of dramatic acousmatic music. In Parmegiani's piece one actually supposes to hear echoes of Orpheus' lyre, which Henry symbolized by an off-tuned cembalo.
Astonishingly, however, precisely this work of Parmegiani does not lack an Orphic dimension. It inherently has the power to open the gates to the underworld for moments. Perhaps this is the message that the Orphic cannot be patented, that it cannot belong to one alone (not even to Orpheus himself), that it is rather an essential aspect of any music that strives to go where it can unfold its being: under the surface.
G.R.
"Maybe from looking too hard, man has forgotten to listen. And the eye, having become the 'solitary wanderer,' can only hear what disturbs it. This is what I meant when I created the piece." (B.Parmegiani on L'OIEL ECOUTE)
PASSANTEN
ROLLER
FOURIER AUF DER REISE NACH PRAG