Günther Rabl :: Friedrich Gulda :: Limpe Fuchs
PLAY GULDA PLAY
SUN, May 16, 2010
Konzerthaus Vienna, Beriosaal
As part of the "Play Gulda Play" series celebrating Friedrich Gulda's 80th birthday.

part 1

LANDSCHAFT MIT PIANIST (landscape with piano player)
Friedrich Gulda - Piano (Original recording of the premiere performance in 1986)
Günther Rabl - Audiotape Composition
Acoustic Staging and Sound Direction: Günther Rabl
Lighting Design: Christoff Wiesinger
Technical Direction: Wolfgang Musil
Technical Assistance: Thomas Gorbach
Organizational Assistance: Sabine Schwenk
Setup: Richard Bruzek, Stefan Fraunberger, Christof Furxer, Daniel Lercher
Special Thanks to: Martina Cizek, Katharina Klement
I have repeatedly been asked whether "Landschaft mit Pianist" ("Landscape with Piano Player") could be performed again in some manner. Suggestions have ranged all the way to a transcription of the recording for a computer-controlled piano. What should one say? Something like that would certainly be possible, with curtailments. A hell of a job! - And in the end it would not sound better than if one played the original recording over loudspeakers.
In this case, we fortunately have a recording of the piano part on two individual tracks, synchronous to the three tracks of the audiotape composition (recording direction: Wolfgang Musil). The ideal precondition for an acoustic staging!
Six loudspeakers of different characteristics represent the concert grand piano in the middle of the room (among them are the type of loudspeakers Friedrich Gulda himself used to amplify his clavichord and for monitoring purposes). Twelve further loudspeakers, in groups of three, surround this ensemble as a 'landscape' of the audiotape composition. Everything will be rounded off with a folded horn for extremely low frequencies.
Not 'live', but real.
G.R.
(translation Brian Dorsey)
part 1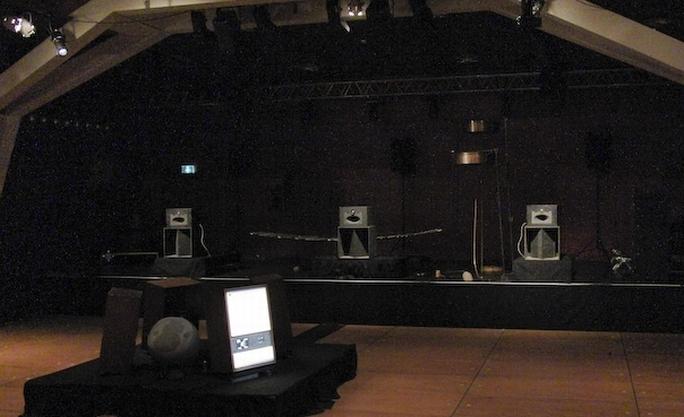 Foto: Michael Zacherl
Foto: Michael Zacherl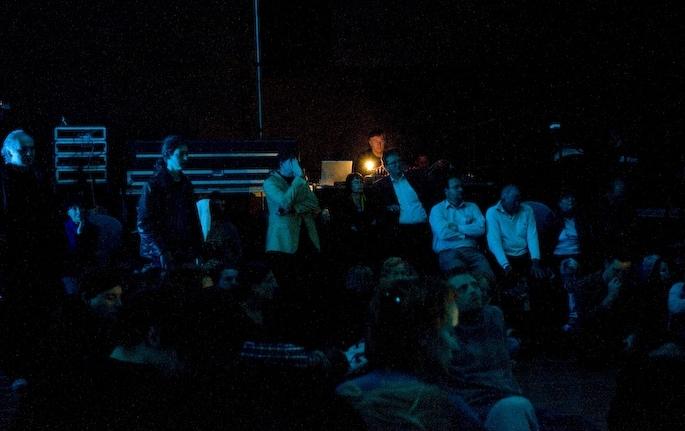 Foto: Michael Zacherl
Foto: Michael Zacherl
Foto: Michael Zacherl
part 2

LISTEN TO THE SOUND OF DISAPPEARING
Limpe Fuchs Voice, Violin, Lithophone, Pendulum Strings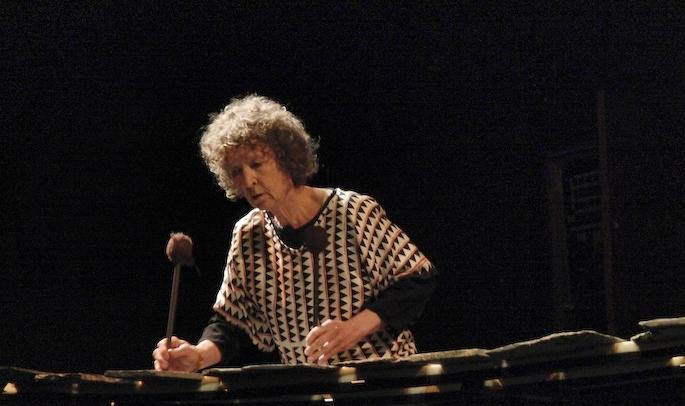 Foto: Michael Zacherl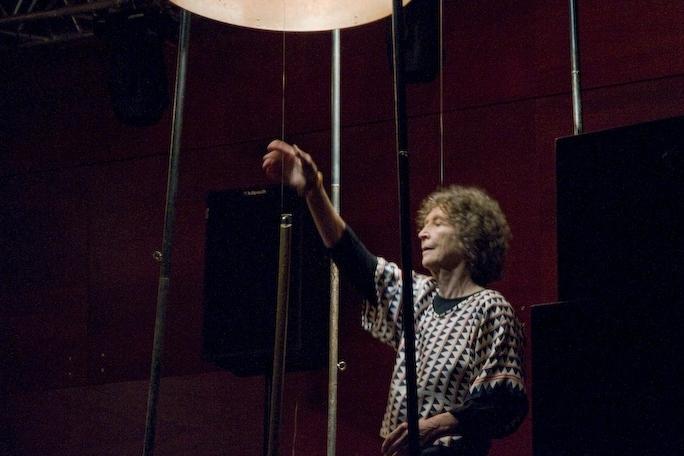 Foto: Michael Zacherl
Foto: Michael Zacherl